ABOUT US
Our product range is of the highest quality! This, combined with superior product knowledge, enables us to supply world-class products with service excellence.
INTRODUCTION
LEDworx, is a Black Woman Owned South African Company and quality supplier of LED Luminaires,
lighting design service and your energy saving partner.
LEDworx Solutions Pty Ltd was incorporated to address the significant need for high quality LED luminaires in South Africa and adjacent territories. Our staff has extensive experience in the lighting industry to ensure our customers' expectations are always exceeded.
Over the past 10 years, LEDworx has established relationships with the front-runners in the LED lighting industry. With LED technology rapidly progressing, these relationships enable us to secure and procure innovative and advanced LED technology solutions.
LEDworx has established and maintained its relationships with LED manufacturers that comply with international manufacturing standards such as ISO9001 and IS14001, and whose products have been thoroughly tested by International Accredited Laboratories in accordance with SABS and/or IEC specification. Our products have been extensively tested by various different international testing laboratories, and have been approved and are accepted in Europe, USA, Japan, Asia and Australia.

What Makes us different
We provide high quality products, backed by expert advice and excellent service
How we work
We determine customers' requirements by conducting a consultation survey, as well as a full project analysis including Spectrometer readingx and Dialux simulations to ensure exact results. With these findings we present comprehensive quotations, including "Return on Investment figures", to guarantee full customer satisfaction.
Our Commitment
Excellent service
Innovative & efficient solutions
Reducing carbon footprint
OUR PRODUCTS
The manufacturers of LEDworx's luminaires are high tech corporations,
specialising in research and development as well as the manufacturing of LED luminaires. 
With a strong focus on research and development in world-class laboratories, our manufacturers are world leaders in LED technology.
Conducting professional workshops, supported by ERP management and ISO 14001 quality control systems, ensuring that there is strict control over the product's design, manufacturing and test progress, to assure stable quality and timeous delivery.
Most of LEDworx's products are SABS approved and comply with the NRCS, additionally, our manufacturers supply over 30 countries worldwide, including Germany, USA, Australia, Europe, Japan, and China.
We offer a wide variety of quality products tailored to our African environment.
Surge Protection
Voltage: AC & DC
Eco-Friendly – Up to 85% Energy Savings
CCT Range 2700K – 7500K
Operational Lifetime up to 100 000 Hours (L70)
High-quality components: Bridgelux, Samsung, Philips & Epistar chips with Meanwell Drivers
Product Guarantees
Contain no hazardous solids, liquids or gases, and easy to install
Countrywide agents
National storage & logistics facilities
OUR SERVICES
LEDworx uses state of the art computer simulations to make the choice,
and placement of your luminaire effortless and as energy efficient as possible. 
By supplying all required dimensions or CAD drawings for a room, or building, LEDworx is able to create a three dimensional (3D) simulation, demonstrating the most efficient LED solution for illuminating spaces. The benefits of such simulations include:
Simple, effective & professional light planning.
Optimal placement & configuration of your luminaires according to your lighting specifications.
Daylight harvesting optimisation.
See the difference in light reflection when planning your facility.
Ability to switch on & off individual light sets.
Ability to dim & brighten individual light sets.
Comparison between conventional & LED lighting.
Engineering & Construction plans generated automatically.
Coloured light scenes with LED or other colour changing luminaires.
Planning whole buildings including outdoor spaces.
LIGHTING CONSULTANTS
LIGHTING DESIGN & LAYOUT
ENERGY AUDITING
ROI & SAVINGS
LIGHTING SUPPLY
LEDworx provides our customers with exceptional quality products and services ensuring optimal lighting solutions at a price point which makes economic sense to our customers.
OUR PORTFOLIO
LEDworx is proud to have successfully completed projects of a wide variety of industries across South Africa,
always providing high-quality products, backed by expert advice and excellent service. 
FUEL STATIONS
Shell – Rooihuiskraal

Q4 – Tierpoort / Garsfontein / Stilfontein

Total – Hartebeespoort
INDUSTRIAL WAREHOUSES
Oranje Falls x 3 storage & sorting facilities
NuWater Capricorn Park
Lanseria
SHOPPING CENTRES
Andringa Walk
Eikestad Mall
Mall of Africa
OFFICES
De Waal Centre
Mill Square
SMD – Head Office / Cape Town
MINING
Petra Williamson Diamonds
Impala PLatinum
Norton & Scallan Mining Supplies
RETAIL
Shoprite
Cashbuild
Spar
Boxer
OTHER
Didata
Virgin Active – Stellenbosch
Urban Vest
QUALITY ASSURANCE
At LEDworx we take the quality, performance & specifications of our products very seriously. 
In order for us to make sure that all our products meet our strictest qualification criteria we have implemented the following procedures to ensure the quality of our products:
NRCS – National Regulator for Compulsory Specifications: Letter of Approval (LOA) for all our products. 

ILAC – International Laboratory Accreditation Cooperation: All our product testing and manudacturers verifications are done by a body that is a member of ILAC. 

RoHS – All our products subscribe to the Restriction of Hazardous Substances Directive. 

TUV Rheinland – Our products are tested by world-renowned testing laboratories. 
SABS – Our Products are certified by the SABS and approved for use in South Africa

All our products are tested according to SANS and/or IEC specifications (As required by Section 3.6 of the current Compulsory Specification for Electrical and Electronic Apparatus). 

All manufacturers and factories comply with ISO 9001 and ISO 14001 certification. 

We deal directly with manufacturers and do regular audits on product compliance. 
CERTIFICATION & TESTING
LEDworx complies with statutory regulations and ensures that all products have the appropriate certifications. Our manufacturers comply with the following specifications and certifications where required.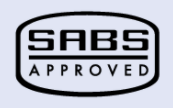 LEDworx had, in addition to the above, accommodated manufacturing plant visits by the SABS (South African Bureau of Standards) where our manufacturers and products were reviewed and audited. The SABS has subsequently added their stamp of approval to our products where required.